Golfing in  2020 with COVID-19
Written by: Lovell Diggins Jr.
Hello my fellow golfers. I want to say "Welcome to 2020", but unfortunately this year has been somewhat of a nightmare to this point because of the COVID-19 virus, and it makes it difficult to welcome anyone into a year that will be marked with countless deaths and suffering.
I sometimes wake up in the morning hoping I was just having a horrible dream, but it doesn't take long before I realize that this is about as real as it gets.
As we embark on the mandatory 2-3 weeks of quarantine along with social distancing when having to go out, I ask myself some of the same questions I'm sure some of you are wondering, like "How long will this last?" and What's going to be the long term effects?" etc….. As a golfer, the one question that comes to mind is "How will this effect our ability to play the game of golf?". I can tell you that the 2 courses I contacted last week were only allowing walkers at one and the other was assigning one person per cart.
On the flip side, there's the question of being golf ready physically and mentally when we are able to get out there. With many establishments being closed, there are still things you can do at home to stay loose and golf ready. I recommend going to this site Mental Golf Mastery where you can learn how to train your mind for maximum performance on the course.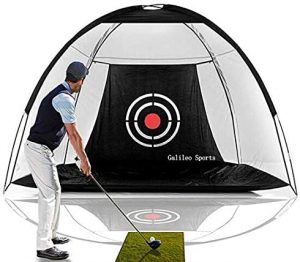 If you haven't already invested in some of the many practice tools out there, I'll show you a few you can purchase and use at home to hopefully keep some of those skills sharp as we hunker down. The first is a golf net to use for chipping and of course a fuller swing if you have the room. I have a net in my basement and it's the perfect size for me and the space I have.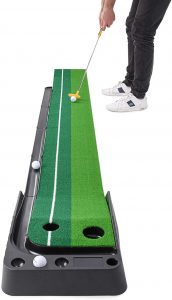 Some of the other golf tools I recommend to help you with putting are the Putting Green with the ball returner to name a few.
Although there are many other golf practice tools out there you can use to help you maintain some level of skill while locked down at home. My suggestion is to make a small investment in your game and purchase one or two to assist in getting through the coming weeks and beyond.
I also recommend picking up, (or order on line) if you're out picking up essentials (-: one of the many golf magazines to help get you mentally ready and in turn take your mind off of some of the negative information being communicated on many channels. In light of what's happening worldwide, I'm sure there would be information designed to get us through this dark period and to aid in prepping you mentally.
I guess at the end of the day, there are so many other important things to be more concerned about, like family, food, water and of course toilet paper (lol), I still don't understand the tp, but I guess to each his own.
In the interim, as we move into uncharted territories in dealing with this virus, I ask that you continue to pray not just for you and your families, but for this world with the hopes we can quickly get this behind us with minimal casualties. I also pray that I see you out on the links sometime this year. Be safe and please continue to visit and support my site at GolfTipsltd.com